RECENT PROJECT: 'BE INSPIRED WITH SHOGGY TOSH ON SALT FM [MON & SAT 2000 - 2200]
BE INSPIRED WITH SHOGGY TOSH: is a 2 hour live radio show hosted by Shoggy Tosh,
on Salt FM London, United Kingdom & Unified Reach Network, Virginia USA- packed with a weekly Top 10 music countdown, guest interviews, best global gospel music, Words of Inspiration & more - broadcasted every Mondays & Saturdays LIVE on both SALT FM & Unified Reach Network USA [via bit.ly/urnbiwst] between 2000 - 2200 GMT [3-5 PM UET]
BE INSPIRED WITH SHOGGY TOSH: is also on URN Network, USA Tuesday - Friday 1700 - 1900
[12-2PM UET] via bit.ly/urnbiwst
SEGMENTS:
Words of Inspiration: Be inspired by the power of God through the Zero To Hero Daily Devotional by Tim Omotoso
Global gospel songs: Enjoy the best of various genres of gospel inspiring tunes from all over the world.
Guest Interviews: Special guests from all walks of life sharing their experiences with our listeners.
Top 10 BIWST Countdown: A weekly top 10 countdown of the songs features on #BeInspiredWithShoggyTosh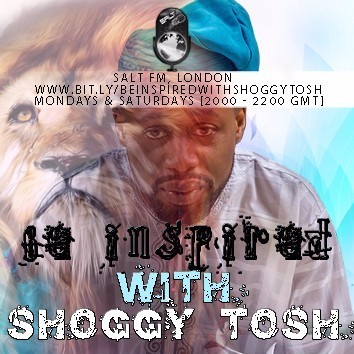 Title. Double Click Here.
Download for free our Be Inspired With Shoggy Tosh Top 10 Chart Magazine:
Top 10 Be Inspired With Shoggy Tosh Chart Magazine:
[Week ending 2 June 2017]

Download LOW Quality [2.5MB]: CLICK HERE TO DOWNLOAD
Download HIGH Quality [14.5MB]: CLICK HERE TO DOWNLOAD
This debut edition presents the top 10 music artistes on our weekly chart as voted by you our fans. Gosh Da Reel from Zimbabwe tops our chart for 2 consecutive weeks with his song, I never knew feat Lerato Happiness; TB2 from the USA maintains the #2 position for 2 consecutive weeks after being #1 for the previous 2 weeks & Mike FitzPatrick is #3.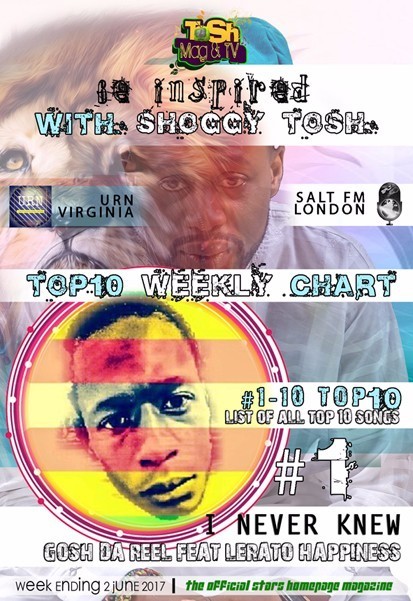 CONTACT SHOGGY TOSH | MANAGEMENT & BOOKING: Miss Hayley Haye: Hayleyhaye@toshmag.com